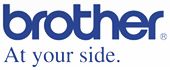 Discover Brother
« At your side »
Although more than a profession of faith.
The all-digital, all-screen generation is here, and Brother is designing and developing products and solutions so you can print, digitalise, fax, copy, label... in short, so you can make your finest mark on paper. Behind our 'Brother At Your Side' slogan, we have products, consumables, and services tailored to each of our customers. There are also talented, accessible, attentive men and women promoting a corporate culture and organisation that is totally focused on the customer.

For Brother, technological innovation only has meaning if it is useful to the greatest number and friendly to the environment. This is why we come up with every solution to make our products safe and environmentally friendly at every stage of their life cycle. 'At Your Side' is far more than a credo. It is first and foremost a philosophy shared by all of our staff.